Appointment
Thank you for your interest in The Braid Guru Services. We are located in Atlanta (Riverdale), GA. We are no longer in the DMV (DC, MD, VA) area. If you are in the Atlanta area and would like to get your hair braided please Schedule an Appointment below. Appointments can be scheduled 30 days in advance, this means you will not be able to book an appointment that is more than 30 days away from the current date. Today's Date: 02/21/2018 Online Schedule Open Until: 03/23/2018 If it is not showing up as available on the calendar then that date is not available for the style you want.
Have Questions? Please check the FAQs.
$35

deposit is required to book an appointment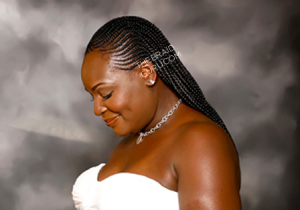 Feed In Cornrows in the front and individual braids in the back, for a full look. This style is very versatile, and can last up to 2-3 months, if you get a touch up of the front once a month. Hair is not included in prices B.Y.O.H.
Hair: 6 packs of 100% Kanekalon hair
Time required: 6 hours.
Price: $150
Length: Shoulder Blades
Click here to see a visual of this length.
Preferred Brands of hair: Que or Outre.
Click here to see a visual of these brands.
Cancellation Policy
We understand that special circumstances are unavoidable and a cancellation may be necessary. Please call us at (404)618-3086 during business hours or CONTACT US using the contact form to cancel or reschedule appointments. Remember, Cancellations or rescheduling can be done 48 hours prior to your appointment, at that point your $35 deposit will be refunded or used towards a rescheduled appointment. If you do not call or email 48 hours before your appointment to let us know you will not be able to make it, your deposit then acts as a cancellation fee, and will not be refunded.
Day Service Prices
For out of town or on the go clients who need more personal services, day rates are charged.
½ day rate – $250
Day rate – $400
Note: Day rate prices do not include travel, or accommodations, which must be provided if travel is required. To book a personal service appointment call us at (404)618-3086 or CONTACT US using the contact form.